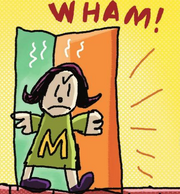 "
Ah, it's good to be king!
"

–-Mayor

Click here to see more of Mayor's quotes.
Mayor is one of the two secondary antagonists in Dog Man (alongside the Leader Hot Dog). She is evil. New Mayor. She also worked with Dr. Scum to build Robo-Chief to take over the city and turn it into criminal territory, who appeared in Chapter 2: Robo-Chief as one of the two main antagonists (alongside Petey). Her plan backfired when Petey destroyed Robo-Chief with a corkscrew slide. After Petey is caught by Dog Man, Mayor's true self is exposed by Dog Man (he was projecting video evidence) in the middle of a Cop Awards ceremony and she goes to Mayor Jail for the rest of her life and gets replaced by New Mayor.
Gallery